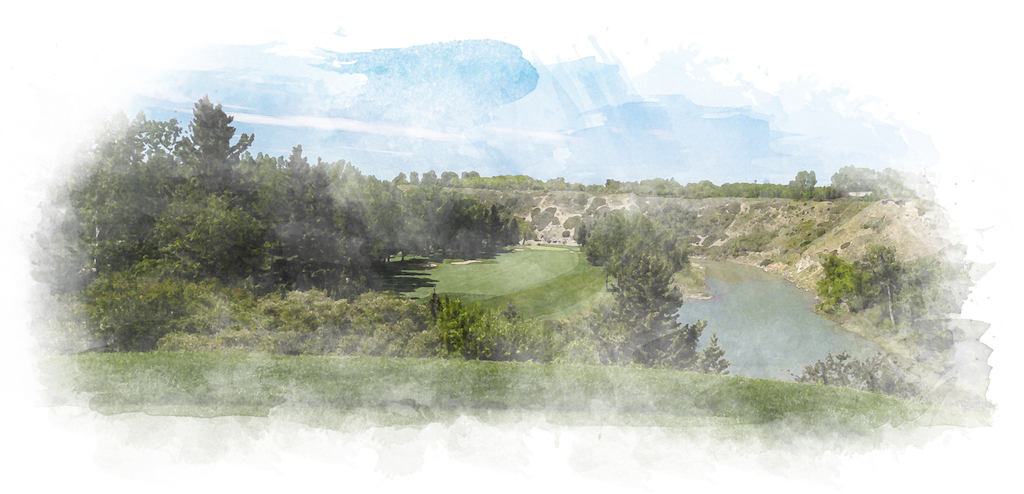 Calgary Golf & Country Club Welcomes You
The Calgary Golf & Country Club honours its rich history and tradition by the style and etiquette displayed by club members. Upholding these traditions are important and we respectfully ask that you to follow the club's established guidelines should you be with us as a guest.
Please take a moment to familiarize yourself with these guidelines.
Appropriate dress is required for all areas of the club.
To provide the finest experience possible for our guests, members are responsible for ensuring their guests follow the club's etiquette and dress code policies to avoid unnecessary incidents of discomfiture.
Should a member be unsure as to whether particular clothing complies with the dress code, they are encouraged to consult a member of the Golf Shop as to golf attire or the Executive Manager or senior staff member for acceptable attire in the Clubhouse or on the grounds. The cooperation of all members in ensuring compliance with the dress code and other policies that preserve the tradition and environment of the club is sincerely appreciated.
Once you pass through the front gates of the Calgary Golf & Country Club, we respectfully ask all members and guests to abide by the following dress code guidelines.
You are expected to wear attire that is neat, tailored, and consistent with the standards of the club and the traditions of the game of golf.
On the Golf Course:
Golf Shoes: The use of non-metal spikes is mandatory. Junior golfers (aged twelve and under) are permitted to play in running shoes that are clean and in good repair. Flat soled shoes are permitted on the putting greens. Golf sandals are allowed with the exception of beach-type rubber flip-flops. Golf hats and caps must be tasteful without large or offensive logos.
Men/Boys: Appropriate golf shirts with sleeves and collars must be worn at all times. All shirts must be tucked in. The length of shorts must fall between mid-thigh and the kneecap. Denim (of any colour) and shorts or slacks with large, baggy, pleated pockets (cargo pockets) are not allowed. 
Ladies/Girls: Appropriate golf dresses, skirts, skorts, capri pants and golf shorts are permitted as long as they fall between the mid-thigh and kneecap. Appropriate golf shirts (which must have either or both a collar or sleeves) must sit on the hip and be long enough to cover the mid-section if not tucked in. Denim (of any colour) and shorts or slacks with large, baggy, pleated pockets (cargo pockets) are not allowed. Halter tops, strapless blouses, and tops allowing exposed skin are not appropriate golf club attire. Fitness wear, exercise and yoga pants or leggings are not allowed.
For men, women, boys, and girls, unacceptable golf attire includes:
Metal golf spikes
Beach-type rubber flip-flops
Denim fabric
Cargo pants and cargo shorts
Hoodies
Caps or hats worn sideways or backwards
Apparel that leaves the mid-section exposed
Apparel prominently displaying non-golf related promotional material or wording
Clothing deliberately designed to be oversized and/or sloppy t-shirts. I
In the event of unacceptable or questionable attire on the part of a member, a relation, or guest, it is the responsibility of the member to introduce a change or other remedy. Otherwise, the individual(s) in question will be asked to leave the property.
In the Clubhouse:
Denim material of any colour is not permitted anywhere on club property. Casual dress/proper golf attire is acceptable throughout the Clubhouse with the exclusion of hats, which are not to be worn in any indoor dining venue. Ladies fashion headwear is acceptable, however. 
Casual dress is defined as a shirt with a collar and slacks or shorts for men and boys. For men/boys all shirts must be tucked in. Women and girls are asked to adhere to a similar standard of dress. Clothing with frayed edges or visible rips or tears is not considered appropriate attire in any area of the club nor are t-shirts, tank tops or workout and yoga attire.
Around the Chateau:
Non-golfing members and guests using the Chateau's facilities may wear clothing that conforms to the regulations pertaining to the Clubhouse or the Golf Course.
To preserve the relaxing atmosphere of the Clubhouse and the game of golf, members and their guests are asked to refrain from audible use of cellular telephones and other communication devices anywhere on club property, with the exception of in the parking lot within a vehicle.
Cellular phones must be kept on silent mode. There are several phones in the Clubhouse for the use of members and their guests. In case of an emergency, cellular phone and telephone services are available in the club.
Members are reminded that the cellular phone policy is strictly enforced and asked to please inform their guests.
Smoking is not permissible in the Clubhouse or at the front entrance.  An area of the club has been set aside for smoking and it is located at the North end of the Main Patio.  
The use of cannabis is not permitted anywhere on club property.
Members are asked to please inform their guests of this policy.
In addition to the above policies in place to make your visit a pleasant one, the Calgary Golf & Country Club has taken steps to ensure the safety of members and guests while on the property.
Please take a moment now and familiarize yourself with these policies and procedures before visiting the club.
Insurance and Liability of Personal Effects
The club shall not be responsible for the loss of any property of members or their guests, nor for any damage or loss sustained by them in or about the Clubhouse, grounds, or other property of the club as per Bylaw 10.04 (b).
Vehicles entering the property shall do so at their own risk and the club will not be responsible for any loss or damage to any vehicles or its occupants, howsoever caused.  It is recommended that Members ensure that their clubs and other effects are covered by their own insurance.
Members are liable for damage incurred by themselves or their guests to club property.
Signs
Members are respectfully reminded that beginning at the gate stop signs must be observed by motorists at all times. Golfers and golf carts have the right of way.
Lightning Detection System
A system has been installed to ensure member safety in the event of a lightning storm. If lightning strikes within a five-mile radius of the course, a twelve-second signal resembling a car alarm will sound to alert members.
The board strongly recommends all members and guests suspend play and immediately seek shelter at one of the four rain shelters on the course or return to the Clubhouse. If seeking shelter on the course, avoid open areas, lone-standing trees, and bodies of water. The five-mile strike radius allows members, guests, and staff to safely clear the course.
Evacuation extends to all practice areas, including the driving range and short-game practice greens. Maintenance and Clubhouse staff must clear the course and will not be permitted to shuttle members off the course.
In addition, play will be suspended from the first and tenth tee until the signal to continue play is received. Members who finish the 9th hole will not be permitted to continue on the 10th hole until the all-clear signal is heard.
During club-sanctioned competitions and events, participants will suspend play and await instruction from the pro shop to resume.
It is mandatory for anyone under the age of 18 to promptly seek shelter or return to the Clubhouse unless decided otherwise by an accompanying adult.
A twelve-second continuous signal resembling a foghorn will sound to signal resumption of play ten minutes after the last lightning strike within a five-mile radius. At this point, golf groups may proceed to the place where play was suspended with these groups having priority in the order of play.